Oxford School of English Junior 2022 Summer School, Oxford, Oxfordshire
Our Junior Summer School provides a memorable experience for students from all over the world, blending first-class English language tuition with masses of fun in a unique environment. Now in its fourteenth year the Summer School has been hugely successful, gaining an international reputation and each year attracting hundreds of students from across the world.
Our team of teachers are all qualified native speakers who follow a dynamic and interactive course.
Students are aged 12-18 and come to us either as part of a group or individually. Once here they soon make friends with other students from the very diverse range of nationalities that visit us each year.
As well as our Junior Summer School, we have a busy main school which is open all year-round for groups and individual students of all ages. We work hard to create a fun, friendly and welcoming environment for students so that they can get the most out of their stay with us. We pride ourselves on a high level of care and attention to detail, and are always on hand to answer any questions or help in any way we can. Students settle in quickly and many return year after year. We provide everything students need to have an enjoyable and productive stay in Oxford.
Students just need to choose their accommodation, course and social programme. We are looking forward to another successful year for our Junior Summer School and we hope you will join us in the beautiful city of Oxford!
The Junior Summer School is based at Magdalen College School, located a short walk along the High Street from the centre of Oxford. Dating from 1480, Magdalen College School is one of the most successful schools in England and was voted Independent School of the Year in both 2004 and 2008. Originally founded as part of Magdalen College and Oxford University, the school educated the sixteen boy choristers who sang in the college choir. The school retains many traditions from its rich history, for example students play King Ball, a sport unique to the school and there's a bell ringing in the college Chapel. The world-class education has produced famous alumni such as St Thomas More, William Tyndale, Cardinal Wolsey and, more recently, Sam Mendes, director of the James Bond film 'Skyfall'. Surrounded by the Oxford University colleges, it's also just a short walk to the residential accommodation. Students are accompanied at all times by an Activity Leader.
In addition to our General English course, we offer exam preparation courses (Trinity and IELTS) with Academic English, as well as University Preparation courses with academic writing.
The school has twenty fully-equipped classrooms with internet, projectors and whiteboards to provide a variety of ways to learn. With average class sizes of 12 students (and a maximum of 15) you will receive plenty of attention from the teacher and lots of opportunities to ask questions. Classes have a mix of nationalities and are organised based on their level and ability. In 2014, we welcomed students from 30 different countries to our Junior Summer School, providing a place where you can mix with and learn about many cultures.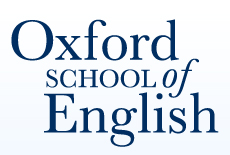 Study at Oxford School of English Junior Summer School 2022 prices
The Oxford School of English offers a number of different courses so there is definitely one that will be right for you. Our courses are taught by enthusiastic and dedicated teachers who come from a variety of English teaching backgrounds and they are particularly good at delivering successful, interesting and enjoyable lessons.
All our syllabuses are designed to cover the important and useful areas of English and the teachers use a wide variety of materials to plan and deliver different types of useful lessons. Teachers give lots of time in class for you to practise using English in a variety of activities. They then guide and support you to help you become better at using English.
Using English in real life situations to plan, decide and work with others to create a project. Your focus is on the project but you are using English the whole time which gives you the experience of using natural English in a real situation. And you will have something you created to present to the class or take home with you.
Cultural Programme
Oxford is famous throughout the world as a centre of academic excellence. It's home to the oldest university in the world and the historic centre is full of grand and traditional university buildings and small cobbled streets. On our Cultural Programme students experience Oxford to the full – visiting the most famous attractions such as Christ Church College, trying their hand at punting on the River Cherwell and hunting for clues around Oxford's Colleges on our Quiz Trail!
£ 950 per week Residential Cultural Programme
£ 738 per week Homestay* Cultural Programme
Tennis Programme
Students will have the opportunity to learn, develop and practice their skills with the expert guidance of our LTA qualified tennis coaches. As well as 12 hours of tennis tuition each week, there are half and full-day excursions and activities in the evenings.
£ 985 per week Residential Tennis Programme
£ 950 per week Homestay* Tennis Programme
Intensive English Programme
Our Intensive English course is designed for students wishing to maximise their progress in English. Outside the classroom, there's still time for evening activities and excursions! These students will enjoy the programme below allowing them to spend time with their new friends and visit the major attractions around Oxford.
£ 970 per week Residential Intensive Programme
£ 750 per week Homestay* Intensive Programme
*Please note that an accommodation finding fee of £ 40 applies to all homestay bookings
For more information on the Oxford School of English Junior Summer School, please write an e-mail to StudyUnitedKingdom EU <- click for e-mail