Colchester English Study Centre (CESC), Colchester, Essex
Study English in real English - in Britain's oldest recorded town. Colchester English Study Centre (CESC) is a well-established, family-owned, independent language centre, established in 1969 in Colchester - famous for being Britain's oldest recorded town. We deliver learning opportunities of the highest level to students who wish to improve their knowledge of English as a foreign language for academic or career purposes. We foster a learning environment which is friendly, informal and professional. Our entire team takes pride in the welfare and support we provide to each individual to help them reach their goals.
Since 1969, we have designed and run more than 1,250 specialised courses for a wide range of clients around the world and built a reputation for delivering results. The Centre is open all year round for adult students aged 16 and over. We are a member of English UK, accredited by the British Council, have Highly Trusted Status, and have undergone Educational oversight by the Independent Schools Inspectorate. We accept enrolments directly from individuals and through a network of agents. We also take group bookings from schools or a particular professional office. We are the only accredited private language school in Colchester to run IELTS examinations throughout the year. We also offer Cambridge English examinations and preparation courses for both exams.
Our carefully selected and experienced homestay providers offer a welcoming, comfortable environment near to the Centre. This provides an important cultural immersion experience and helps our students to use their English in a relaxed environment for maximum benefit. The Centre is easily accessible from London airports and is only 50 minutes by train to London. This enables us the ability to offer students a genuinely British cultural experience without distraction during their studies, yet also provides an opportunity for them to travel easily to England's capital, making us a popular base for international students.
Rated 7th in EL Gazette's Top 20 Summer Schools in the UK. We run 3 junior summer centres for students aged 11-17, two homestay and one residential. These are located in the countryside near Colchester.
We offer a range of courses for adults (16 years of age and up) including:
general English from beginner to advanced level
intensive English
Cambridge ESOL exam preparation
IELTS and TOEIC preparation
Teacher Training
English for Doctors and Nurses
Business English Communication
Select English and Culture (a 35 years + programme)
more specialised tailor-made courses for business professionals
The Centre welcomes students from all over the world and has a varied mix of nationalities. Unless otherwise requested, all classes are multinational, and allow students to enjoy the rich cultural environment created by the mix of students. We provide a daily programme of extracurricular activities. There is a range of extra speaking activities, sport and purely recreational evening events, such as visits to the cinema, bowling, barbecues and discos. These events are staffed by our teachers and provide an extra opportunity for students to speak English and to socialise with other nationalities.
For more information or an applicaion form for the Colchester English Study Centre, send an e-mail to StudyUnitedKingdom EU <- click for e-mail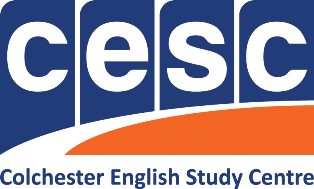 Study at the Colchester English Study Centre 2022 prices
The Colchester English Study Centre offers all-year-round courses to adults in General English, Intensive English and exam preparation. Our classes range in ability from beginners to advanced and most courses start on any Monday in the year - excluding Bank Holidays. We offer very flexible course dates and timetables. We have a range of special courses for business and sector professionals to aid in career progression and personal goals, you can add extra courses, including one-to-one tutorials to maximise your experience with us.
General English courses for levels from beginners (A0) to advanced (C2). Our courses can provide a quick boost to your language over a short period, or a long-term change in proficiency. A choice of specialist courses including: Business Communication, Medical English, Teacher Training and Adult Vacation courses.
Main Course General English; 20 lessons per week
£ 270 price per week (more than 2 weeks at a discount)
Main Course Intensive General English; 25 lessons per week (Main Course + Speaking OR Skills)

£ 315 price per week (more than 2 weeks at a discount)
IELTS preparation course; 25 lessons per week, £ 315 per week (more than 2 weeks at a discount). Students must be a minimum level of B1 to join the IELTS course.
English and Work Experience: This course is for people who want to improve their English and practise using it in a 'real' working situation. They may be young people who want to work in offices, shops and other places where English is important, or they may be older people who want to improve so they can do their jobs better.
£ 270 price per week (more than 2 weeks at a discount) plus a one off £ 100 work placement fee
Medical English £ 360 per week (more than 2 weeks at a discount)
English for Doctors; Only group bookings
English for Nurses; Only group bookings
Teacher Training: Only group bookings
CESC provides a comfortable place to stay
Most students stay with friendly local homestay providers on a half board basis, and these are normally within easy reach of the school. Your provider offers you breakfast and dinner and booking this type of accommodation offers you an ideal opportunity to experience English life and practise your English communication skills. Our aim is that every student will feel happy and comfortable with the homestay provider we select for them. Our homestay providers offer a high standard of accommodation and are concerned at all times for the welfare of the students in their care.
If you have any special requirements, please tell us before you come, at the time of booking. Tell us if you need a special diet, have allergies or do not want to live with children or pets. If you tell us about these needs, we can give you the accommodation best suited to you.
Prices per week 2022 (£ 50 handling fee)
Single homestay £ 155 per week
Ensuite homestay £ 195 per week
Hosting medical conditions/allergies (including gluten-free/coeliac) £ 25
One additional night £ 25
Accommodation with a homestay provider is booked in one week periods, Sunday to Sunday. Our Accommodation Team can also assist in booking Bed & Breakfast or Hotel accommodation where you will benefit from our special rates.
Notes
A £ 75 registration fee
A £ 200 deposit is payable on enrolment and secures your booking.
All fees are £ per student per week - minimum booking 2 weeks unless otherwise stated
All lessons are 50 minutes and the maximum class size 14