Languages United, Bath
Languages United is a boutique language school in the centre of Bath providing year-round English tuition for adults and juniors. We are passionate about languages and will help you improve your language skills - we are sure you will enjoy your course with us. Languages United is accredited by the British Council for the teaching of English. This year we celebrate our 10th Anniversary!
Vibrant, inspiring and stunningly beautiful, you couldn't pick a better place to study English than Bath. Whether you are looking for a holiday course, are preparing for University, need English for your business, or just enjoy learning, Languages United will help you improve your English. We are an independent, friendly, boutique school who are accredited by the British Council for teaching English. We are your "home away from home". The skills you develop during your course at Languages United will stay with you throughout your life, giving you new experiences, new opportunities, new friends and a new window through which to view the world.
Languages United provide English courses for individuals and groups throughout the year, including our Summer School for teenagers. As well as General English and Intensive English, we run specialist courses such as English with Floristry, English with Aromatherapy, English with Fashion, English with Jane Austen.
Bath is a great city for students - it is a safe city, and not too big to get around easily. Bath is known for its honey-coloured Georgian crescents, cobbled streets, outdoor cafes and bustling bars, and is seen by many as the most beautiful, vibrant city in England. What is certain is that it's the perfect place to learn and be inspired. You'll find so much to do and see here, from museums, galleries and theatres, to bars, restaurants and clubs. The city has a large international student population, with two universities, and there's always something happening for young people.
Homestay Accommodation
Staying with a host family is a great way to practise and improve your English as well as make new friends and meet new people. Most of our Homestay accommodation is provided on a room-sharing (twin room) basis. Friends and families can share by request, and single rooms and en suite rooms are also available on request. Homestay may be on a half-board basis (two meals per day) or full-board basis (three meals per day).
Hostel Accommodation
Our hostel accommodation is provided by Bath YMCA. Situated in the centre of the city, it is just a couple of minutes walk from Walcot Street. Both single and shared rooms are available, with a range of meal options. Hostel accommodation is available to individuals aged 18 and over, and to junior groups accompanied by a group leader.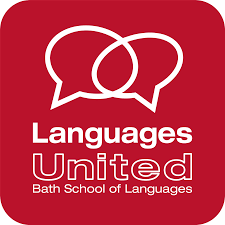 Study at Languages United (2022 prices)
English Courses for Adults
Preparing for University? Need English for your business? Want to develop your skills? Choose from a range of General English, Intensive English and Exam Preparation courses.
General English (20 lessons): Whatever your level of English, this course will help you gain confidence and ability as an English speaker. You'll improve your skills in conversation, listening, writing, reading and grammar. Whilst working interactively you will have plenty of opportunity to practice the skills you are learning. This course runs in the morning, leaving you enough time to explore the city of Bath, relax or study.
£ 205 per week; 15 hours of English each week covering speaking, listening, reading and writing.
Intensive English (30 lessons): This course includes all the skills taught in General English, but you will be studying for longer hours to maximise your learning. This intensive course is composed of General English lessons in the morning which will improve your overall level of English. Your afternoon lessons will focus on developing your language skills further and work on areas of interest to you.
£ 280 per week; 22,5 hours of English each week covering speaking, listening, reading and writing.
Summer School for juniors 12 – 17 years of age
Our holiday courses are designed to help you improve your English, make friends from around the world, and create memories that will last a lifetime. Each morning you will study English, focusing on speaking, listening, reading and writing. In the afternoon and evenings there is a busy programme of cultural excursions, sports and social activities. You stay with a host family, who provide you with breakfast, a packed lunch, and an evening meal. If you have your own accommodation - you are staying with friemds or family - then that's fine as well.
£ 690 per week package fee with homestay accommodation. Course includes tuition, activities and accommodation, but does not include flights or airport transfers.
Registration fee for each course: £ 65
For more information on Language United in Bath, please write an e-mail to StudyUnitedKingdom EU <- click for e-mail