Queen Ethelburga's Collegiate School, Thorpe Underwood, York
Set in more than 220 acres of beautiful English countryside, Queen Ethelburga's has provided students with a vibrant and supportive school community since 1912.
We welcome girls and boys from 3 months and support them through our four schools - Chapter House (3 months to Year 5), King's Magna (Year 6 to 9), The College and Faculty (both Year 10 to 13) – to become resilient, confident and independent young adults who are well prepared for their future.
QE is known locally, nationally and internationally as a place that promotes the highest standards in all that it does. Our reputation has grown considerably over recent years, and we believe this is due to our drive to ensure that our outcomes for QE students, across all areas of their endeavour and aspiration, match those of the world's best schools.
Welcome to Boarding at QE
Queen Ethelburga's welcome students wishing to Board from Year 3 to Year 13 with weekly and full boarding options.
Here at Queen Ethelburga's, our approach is unique. We are very lucky having the facilities we do which help our committed and ambitious students make outstanding academic progress. The Boarding environment is crucial in supporting student's personal development and helping students grow in all areas of their lives. At the heart of boarding at QE, are three central characteristics; opportunity, individuality and a caring community.
QE boarding is known for its modern facilities which support student development and provide a safe and productive environment to thrive. All bedrooms are air-conditioned, provide ample room to study and include private en-suite bathrooms with a toilet and shower. Sixth form boarders also have cooking and washing facilities in their rooms to reflect their growing independence.
King's Theatre
The King's Theatre is the hub of performing arts at Queen Ethelburga's; a full scale professional venue with a seating capacity of over 300 which inspires in students a love of performing to different audiences.
Many of our past performing arts students have gone on to study at acclaimed drama schools such as the Royal Central School of Speech and Drama, the New York Film Academy, the London Academy of Music and Drama (LAMDA) and the American School of Music and Drama (AMDA).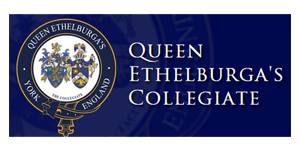 Study at Queen Ethelburga's Collegiate School
See the Queen Ethelburga's Collegiate School 2022 Camps & Courses here
Academic standards at Queen Ethelburga's are exceptionally high and lead to outstanding results. Our flexible curriculum, innovative and dynamic teaching, excellent facilities and professional staff ensure all students have the maximum chance of success in their studies.
Lessons at QE employ a variety of different teaching styles and techniques, as our teachers recognise the varying needs and learning approaches of our students. With an emphasis on enjoyment, love of learning and an aspirational approach to gaining qualifications and skills, our teachers and students work in partnership to maximise success in the classroom.
English as an Additional Language (EAL)
The international department is here to help those students who have English as an additional language to develop their speaking and writing skills and to improve in listening and reading English.
English as an Additional Language (EAL) is offered as a subject to students throughout the Collegiate. An intensive approach to teaching, focused on student production, means that learners are able to make rapid progress. Through student-centred lessons in small groups, learners are able to access expert advice and personalised tuition which enables them to work on, and develop, their individual areas of weakness.
Creative Arts
The creative arts department at Queen Ethelburga's combines the skills and resources of the Art and Design department and the Design and Technology department to offer a fantastic learning experience and a range of subject routes that go beyond the traditional subject choices.
Performing Arts
Performing arts are very much at the centre of school life and attract students of all ages, interests and backgrounds with the opportunity to perform in public, to develop their creativity and to grow in confidence as individuals.
Sports
All of Queen Ethelburga's students follow a sports programme with the values of fair play, honesty and determination at its heart. Our motto of 'be the best that I can, with the gifts that I have' is never more evident than through the work we do as TEAM QE.
International Student Fees for the academic year 2021/22
£ 13,850 - £ 14,900 per term Chapter House Year 1 - 5 Ages 5 - 10
£ 15,750 - £ 15,913 per term King's Magna Middle School Year 6 - 9
Ages 11 - 14
£ 16,532 - £ 17,456 per term Queen Ethelburga's College & Faculty
Year 10 (GCSE Yr 1) Pre A-Level (Sixth Form)
Ages 14 - 18
For more information, please contact StudyUnitedKingdom EU <- click for e-mail