Adcote School for Girls, Shrewsbury, Shropshire
Adcote School for Girls is a unique, vibrant, independent school. Established in 1907, the school has around 295 pupils on roll and is set in a magnificent Grade I listed building, surrounded by 30 acres of beautifully landscaped parkland. Adcote combines small class sizes and individual attention which go hand in hand with a wealth of extra-curricular opportunities.
Adcote is proud to be the only 'purely girls' independent school, from 4-18 years in Shropshire. Adcote allows girls to flourish in a single-sex environment where they make lifelong friendships with other girls, and where they learn to lead without unfair competition or distraction from boys. We are defined by our single-sex status, being an all girls' school is fundamental to our identity.
Academic excellence
Idyllic, safe location in a Grade 1 listed building in the heart of rural Shropshire
Small friendly classes
Emphasis on politeness, manners and smart appearance of our pupils.
Wide range of extra curricular Activities
School day to 6.00pm
Very competitive fees which are inclusive of extras, with a number of scholarships available.
The decision about which school to choose for your child is one of the most important that any parent has to make. Many parents who have chosen Adcote comment on its welcoming atmosphere and our polite, well-behaved and motivated pupils. As a school we aim to offer an excellent academic education as well as access to a wide range of Music, Drama and Sport. We believe that Adcote offers its pupils the best possible opportunities to succeed.
We are fortunate that Adcote is its own multi-cultural community, with around a fifth of our pupils from overseas. We welcome pupils and staff from over fifteen countries from around the world and they bring a wealth of cultural diversity into Adcote. We are careful to maintain a equal balance of pupils from different parts of the globe. Our international students are fully integrated into School life and are made to feel very much part of the family.
We welcome and encourage opportunities for girls to share in each others cultural events, for example Chinese New Year celebrations, themed social evenings and cultural assemblies led by the pupils. Adcote arranges a wide variety of cultural events and visits as well as giving overseas pupils a varied taste of the 'British way of life'.
Pupils from overseas make a very significant contribution to life at Adcote and are very welcome. Their welfare and happiness far from home is very important to us. We think it is an equally good thing for English children to make friends from different parts of the world, and to gain an insight into different cultures and customs, as it is for children from overseas to have English friends and to experience England. If overseas parents are are looking for a British boarding school which delivers 'traditional excellence' in every sense of the word, then Adcote School is the answer.
Adcote is located in the heart of England – literally in the Midlands. The ancient and historic town of Shrewsbury, only fifteen minutes away by road, is situated less than three hours journey from London, and only one hour from Birmingham and an hour and a half from Manchester. All travel arrangements are coordinated through a local, trusted taxi company, who will ensure that overseas girls are met at airports or train stations as required and brought to Adcote safely. We will help you with accommodation as and when you are able to visit us.
We are quite an adventurous school, and we like to make sure that our girls experience much more than the school environment and classroom teaching. This is especially important for overseas girls so that they develop their knowledge of English institutions such as Parliament, English culture through music and drama at Birmingham and Shakespeare's Stratford-upon-Avon, and English towns and countryside such as York and The Eden Project or Hadrian's Wall. We regularly run visits to places like thes
Why would you send your daughter to an all girl's school?
For more information on Adcote School for Girls, please write to StudyUnitedKingdom EU <- click for e-mail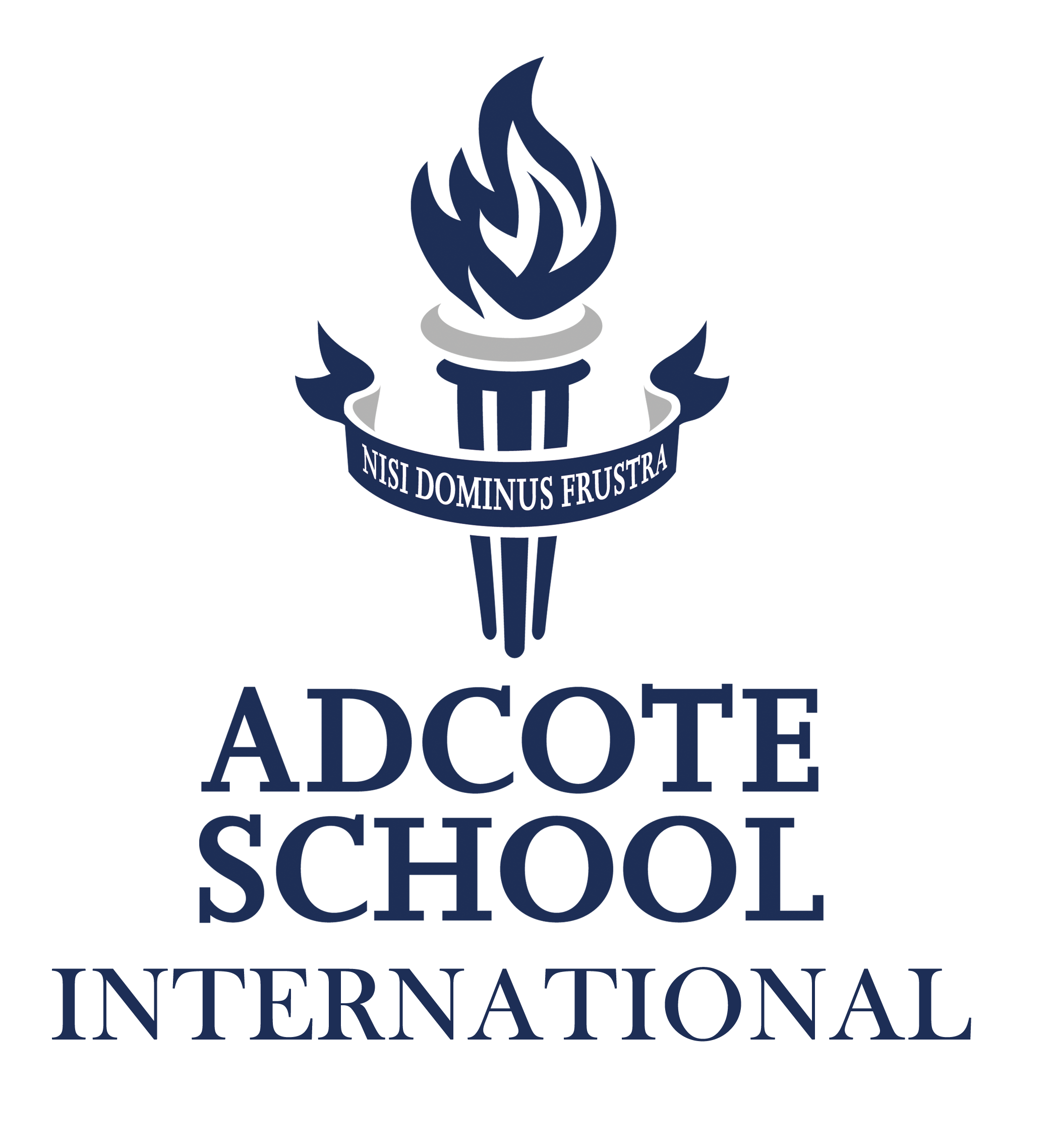 Studying at Adcote School for Girls
Adcote has an excellent academic reputation. Adcotians continue to achieve consistent academic success, and we were again delighted with the results achieved in public examinations by our pupils last year. As a school we have high expectations and standards. However, we are keen to ensure that girls receive a broad and balanced education, and that they undertake a wide range of educational experiences aimed at enriching and extending their abilities and understanding.
Drawing on over a century of experience, we aim to develop the unique gifts of each girl by providing an environment through which all our pupils will flourish. Our aim at Adcote is to ensure that every girl is challenged and encouraged to make the most of every opportunity and always to do the best they can.
Confidence and independence are encouraged as soon as girls enter the School. They are introduced to a wide range of academic subjects and outside interests. The School has around 200 pupils, of whom 40% are boarders. Visitors frequently comment that Adcote pupils seem happy, confident and at ease with themselves and each other. This has been recognised by the Independent Schools Inspectorate (ISI) following their most recent inspection.
Studying for English Exams and Higher Education
An outstanding EFL department provides specialist academic and pastoral support to all international pupils as required. All students are tested and a personal programme is designed. Tuition is either individual or in small groups. The EFL staff also offer support and advice to students coping with integration into boarding school life. EFL is provided three times a week at no extra charge.
The full range of core subjects and options that we offer is open to all overseas students to meet their needs and to develop their interests. Students in the Sixth Form are prepared well for British and overseas universities, and offered individual advice on courses and careers.
At Adcote we not only believe in maximising each girl's academic ability, we also provide a wide range of responsibilities and activities that allow pupils to experience competition, compassion and leadership that will equip them for the challenges in life that lie ahead. An independent academic curriculum is complemented by a whole range of enjoyable activities designed to stimulate young minds and provide girls with an all-round education. Current activities available include French, Spanish, Russian, Mandarin Chinese, Yoga, astronomy, share-trading, carpentry, English Speaking Board, gardening, jewellery making, ballet, choir, drama, art club and horse riding.
Sport is regarded as very important and girls have the opportunity to enjoy netball, athletics, archery, golf, badminton, rowing and jiu-jitsu with excellent tuition available for horse riding, tennis and swimming. The Duke of Edinburgh Award scheme is also strongly supported. Adcote is now one of the leading schools for gymnastics in the region. Music, dance and drama provide fun and excitement as well as challenging the girls' imagination. The school also has an outstanding choir. There are voluntary workshops in drama and contemporary dance and pupils have the opportunity to take part in two major productions each year. Regular visits to theatres and concert halls in London, Birmingham, Manchester, Stratford-upon-Avon as well as other local venues allow girls to experience the pleasure of watching live performances.
Short Term Students
We also have a tradition of students studying with us, usually for a year, but some just for a term. They use their time at Adcote, not only to improve their English, but to develop responsibility and initiative – and of course to make good friends. In recent years, students from Austria, Germany, France and Spain have enjoyed their time with us and made excellent contributions to school life.
Adcote is a full termly boarding school, and girls are well looked after, not only during the week but at weekends, too. As part of our imaginative provision for both day girls and boarders, we run trips to local venues for shopping, swimming and bowling, visits to concert halls and theatres in the region, and weekend trips to places such as Chester, the Severn Valley railway and the Birmingham German market.
At Adcote School we welcome boarders from the age of 8 years old through to the Sixth Form. We offer a safe, caring and disciplined environment in a school where privacy and independence are respected, and where the girls can enjoy companionship, fun and a lively programme of boarding activities. Boarders live on the first and second floors of the house where the rooms are airy, spacious and attractive. Most girls enjoy sharing a room, whilst some of the Sixth Form have a study bedroom of their own.
Fee 2020-2021
£ 38,100 for one year
£ 12,700 for term (three terms)
There is a £ 200 registration fee