Ardingly College, Haywards Heath, West Sussex
Ardingly College is an independent co-educational boarding and day school for boys and girls aged 2-18 located in the south east of England. Situated in beautiful West Sussex countryside between London and Brighton, the College is 12 miles south of London Gatwick airport, 35 miles from London Heathrow and convenient for Surrey, Hampshire and Kent. The 230 acre campus is home to The Farmhouse Pre-Preparatory School (ages 4 -7) including a Nursery School from 2½, The Preparatory School (ages 7-13) and The Senior School (13-18). The Sixth Form offers a choice of A Levels and International Baccalaureate (IB) courses.
The Independent Schools Inspectorate (ISI) has praised Ardingly College as highly successful, with excellent leadership and some exceptionally high achieving pupils. The ISI inspection report is characterised by the words, "excellent," "outstanding," and "exceptional."
The starting point of a good school is to ask one simple question: What do we want for our pupils?
At Ardingly, we want our girls and boys to achieve excellence through intellectual and personal growth.
Intellectual growth is in response to stimulating teaching and an emphasis on developing an ability to learn effectively. Pupils' personal growth is achieved through an understanding of their own qualities and emotions, so that they lead lives full of meaning and purpose.
As a Woodard school, the College is sustained by a tradition of Christian education, through which pupils can appreciate the spiritual and moral dimensions of their lives, and grow in body, mind and soul. Human flourishing includes and goes beyond a focus on academic results. Our pupils achieve excellent results, but we recognise that these are the means to an end, not an end in themselves. The process by which pupils learn and prepare themselves for the next stages of their lives is equally important, for it will secure their success and fulfilment as adults as well as children. Through the Ardingly Learner Profile, pupils become aware of the means by which they learn and can put these into practice.
Boarding at Ardingly
A boarding house is much more than just a building where a student keeps their belongings, works, sleeps and then leaves. It is a community of which all people are connected to the House. During their time at Ardingly, boarders should make the transition to confident adulthood, developing self-reliance, commitment to others and the ability to get on with a wide range of people. All boarders should feel secure in their House and receive guidance and advice from the House staff as they progress through the school. All boarders should develop pride in themselves and their House and many will make friendships which will last throughout their lives. They should work hard, develop a strong sense of their own character and have a great deal of fun.
We have a dynamic and passionate boarding Housemaster and Housemistress team who are committed to ensuring two things: Firstly, that when your son or daughter walks in through the boarding house front door they feel as close to being at home as it is possible. This is a place where they spend the majority of their time and thus they need to be able to relax in a secure and friendly environment, enjoy themselves and build on their classroom learning. Secondly, when they walk out through the front door of the house they need to be in a position to learn and contribute to Ardingly life most effectively. That means a good night's sleep, the right food and the knowledge that they have the full support of the house team, from the Housemaster and Housemistress (and their families), to the Assistants, Matrons, cleaners and maintenance staff.
For more information, please contact StudyUnitedKingdom EU <- click for e-mail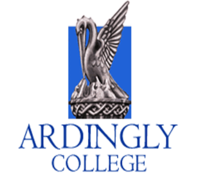 Academics at Ardingly
Studying at Ardingly College will add a new dimension to your life as a student, whether you choose to be a boarder or a day student. In every lesson and every activity throughout the busy day, you will experience the excellent teaching and the warm encouragement that have made Ardingly such a popular and successful choice for generations of students. Ardingly College works with families to ensure that pupils have high academic expectations, achieve success in public examinations and discover interests that will stay with them for life. We continue to be proud to teach our boys and girls to learn, to think independently, to challenge and to discuss, rather than be treated as empty vessels to be filled with facts. Our academic success speaks for itself! Class sizes are small and each pupil will continue to select a Tutor to supervise his or her academic progress. Ardingly College will continue to have a thriving academic life to stretch the brightest, and to provide appropriate support for those who need it.
When your time at Ardingly finally comes to an end, we want you to be able to look back on your days here with genuine pleasure and pride at what you have achieved. You will leave us having had an excellent, rounded education; you will have been well-prepared for university and life beyond; and you will have the confidence and the skills needed to take your place as a productive member of the global community. Ardingly is an outstanding independent co-educational school that offers an excellent all-round education. However, rather than taking our word for it, come and visit us and see for yourself.
Ardingly College Year 9 – GCSE, The Middle School
The Middle School at Ardingly College aims to develop a love of learning, to encourage inquiry and academic potential whilst nurturing individual talents and preparing students for independent Sixth Form study.
Ardingly College Sixth Form, Pre-IB Ardingly
The Pre-IB programme has run at Ardingly since 2007 and is designed for Year 11 students from outside of the United Kingdom who may be moving away from home for the first time. Pre-IB programmes at Ardingly are tailored to the strengths of the individual, whilst supporting them whilst they adapt to an English-speaking Boarding School environment, before commencing the demanding IB Diploma programme.
A World IB and A Level School, The Sixth Form
Ardingly Sixth Form aims to develop confident young adults excited by, and equipped to deal with, the opportunities presented by the wider world.
Extra Curricular Activities at Ardingly
An exceptionally wide range of extra-curricular activities are offered and pupils have many opportunities to lead throughout their time at school through the Duke of Edinburgh Award Scheme, CCF, Sports Teams, Music, the Performing Arts, Debating and the Student Council.
Ardingly School Fees (2020 - 2021)
£ 12,600 per term (thee terms) including boarding years 11, 12 and 13
For parents resident abroad an additional deposit may also be required of one term's fees less the entry deposit of £ 1,000