Ford Castle Adventures, Berwick upon Tweed, Northumberland
Be Inspired…Stay in a REAL Medieval Castle
Ford Castle is a Medieval castle set in the rolling countryside of Northumberland, with exciting activities hidden within the grounds. We provide group activity holidays for children who will adventure and explore their way into outdoor education as they enjoy activity sessions in a supportive environment with stunning scenery, where history comes to life.
Learn English in a real English Castle! Live like a Lord or Lady or become a Knight of the Round Table!
With our fantastic combination of fun English lessons, interesting excursions and exciting activities for 11-17 year olds you can't fail to have an English experience that you will never forget – and your language skills are sure to come on in leaps and bounds! You will stay inside the Castle itself, the centre piece of the 5,500 hectare Ford and Etal Estate. There's every possibility that you'll bump into the real-life Lord of Ford and Etal himself, plus you'll be able to try your hand at various activities such as Archery, Fencing and Climbing and eat traditional food on Medieval night.
Each week you will have 18 hours of English lessons plus the chance to visit exciting places like the historical city of Edinburgh, the vibrant city of Newcastle and the famous Roman Wall.
18 hours of English lessons per week
Tour of Edinburgh
Tour of Alnwick Castle (Hogwarts in Harry Potter films) OR
Tour of Durham Cathedral (11th Century; Hogwarts in Harry Potter)
Shopping trip to Newcastle-upon-Tyne
Our staff members are fully qualified and experienced in everything they do and are excited to welcome you to Ford Castle, from our English Language Teachers and our Activity Instructors to our City Guides and Catering Staff.
More information through StudyUnitedKingdom EU <- click for e-mail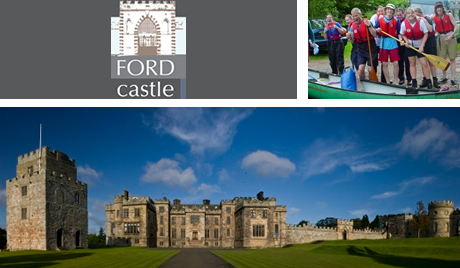 Study at Ford Castle
Bringing the curriculum to life can be a challenge, but not here. Learning outside the classroom at Ford Castle is fun, friendly and fantastic. The Castle itself plus our ready proximity to many sites such as the Roman Wall, Holy Island, Cragside House, the Cheviot Hills, and the River Till mean we are ideally placed to effectively target many subjects. National Curriculum requirements in History, Science, Geography and Citizenship for Key Stages 2 and 3 are covered as well as various topics for GCSE or A-Level and Baccalaureat groups.
What's more, the beautiful and desolate beaches of Northumberland are close by should you wish to study the rugged coastline. Coursework at Ford Castle is therefore the best of both worlds – the real opportunities for study that come from a non- manufactured, natural environment coupled with the help, support and periphery activities of a managed centre. Teachers can relax and leave the planning, delivery, catering, accommodation and fun to us!
Our unique setting allows children to stay in the castle, play in the grounds and learn outside the classroom. The ropes courses, zip wire, archery and fencing lessons are just a few of the active sessions we provide, and friendly staff will design a stay to your own specifications. Our on site schoolrooms allow classes in modules of science, geography and history, and we use the surrounding countryside, rivers and evolving ecosystems for field study. We even organise group excursions to study places of interest; Alnwick Castle, Lindisfarne, and Edinburgh are popular choices.

Cost (2017 prices)
€ 1,850 for a two week summer camp stay from August 6 - 20
€ 1,050 for a one week summer camp stay from August 20 - 27
*Airfare is not included
*Airport transfers from either Newcastle or Edinburgh airport is included in our price.