Global School of English - Edinburgh
High quality English language courses in Edinburgh
Global School of English is proud to be a Scottish owned and family run school. The school was established in 2010 and has quickly established a reputation for providing high quality English language courses in a relaxed and welcoming setting in the centre of Edinburgh.
Global School of English is located in the upper floors of an 18th century townhouse building in the historic New Town of Edinburgh which provides the ideal location to enjoy the culture, history, arts and music, great food, sports, and beautiful scenery that Edinburgh has to offer. We are ten minutes walk from Waverley train station and two minutes walk from the main Edinburgh bus station.
What can Global School of English offer you?
Quality teaching delivered by professional native speaking English teachers
Range of Full- and Part-time English language courses for adults and young learners
All levels from Beginner to Advanced
Flexible enrolment - join General English any week
Flexible course length - from one week to one year or more
Regular social programme
Support and guidance to ensure that you enjoy your stay in Edinburgh
Accommodation 2017 prices
Student Flats
We work with different student residences to provide our students with accommodation that offers much freedom and a chance to live with your classmates. Residences allow for you to cook the food that you like, invite your friends over as you like and stay out as late as you like (as long as you don't miss school!). All of our residences have single bedrooms, some with private (en suite) bathrooms, and all with shared kitchen and laundry facilities. Prices vary, depending upon the residence and the time of year. Please state your preferred residence at the time of booking and we will do our best to find you a room there. The most popular choices include:
Unite Student Flats - McDonald Road (July and August only!)
Opened in 2008, this residence offers clean, comfortable and modern accommodation, located 10 minutes from Edinburgh city centre and the School. Rooms are en-suite single bedrooms with shower rooms, in a flat shared with 2,3 or 4 other people.
Single room with 3/4 size bed, Private en-suite shower room. £205 per week in July; £270 per week in August, self catering, bedding and towels changed weekly
ZIGGURAT STUDENT LIVING - WELLGATE HOUSE
Completed in 2011, this 64-bedroomed residence, offers clean, comfortable and modern accommodation, in the heart of Edinburgh's Old Town. Rooms are en suite single bedrooms (3/4 size beds), plus shower room, in flats shared with 3 other people.
Single with ¾ size bed, private en suite shower room, £ 190 per room per week. Shared self-catering kitchen/lounge with sofas and large flatscreen TV, kitchen/common area cleaned weekly
Home Stay
Home stay is a popular accommodation choice for international students. This type of accommodation is provided by local families, who welcome you into their own homes. There are a number of benefits in choosing this type of accommodation including:
You will have your own single bedroom
You will receive breakfast and dinner
You will be able to practice your English outwith the classroom
All home stay accommodation is carefully chosen and regularly inspected by the school
The price for this type of accommodation is from £160 per week.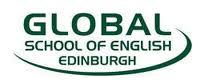 Study at Global School of English
Also see our Summer programme
Quality is important to us. We are accredited by the British Council under the Accreditation UK scheme and are also a member of International Association of Language Centres (IALC). We are also one of the few English language schools to be approved by the British Standards Institution against the internationally recognized ISO9001:2008 quality standard.
We are committed to improving your English language skills and making sure you get the most out of your experience in Edinburgh, whether you want to gain entry to a UK university, pass an examination such as IELTS or TOEIC, enhance your employment opportunities, or simply enjoy your time visiting Scotland.
Our courses
General English - 15 hrs (7.5 hrs and intensive also possible)
General English & FCE or CAE
The General English course is a full-time programme that runs all year. The course has a strong focus on the practical needs of both short and long term visitors to the UK. It is ideal for anyone who wants to improve their all-round communication skills. There are 15 hours of classes each week. You can study from as little as one week to one year or more. You can enrol most Mondays. This course covers six levels from Beginner (CEF Level A1) to Advanced (CEF Level C1) and includes regular opportunities to progress through these levels.
IELTS Preparation - 15 hours (7.5 hrs and intensive also possible)
General & Business English
General English & FCE or CAE - 7,5 hours
This is a full-time course that combines the general skills needed to live and study in the UK with special exam preparation classes. Each week you will attend for 22.5 hours: the morning classes (15 hours) focus on language skills; afternoon classes (7.5 hours) focus on exam skills.
English & Internship (Unpaid)
Many students that come to the UK to study also want to gain experience of working within a English-speaking environment. Glasgow School of English offers you a two stage programme to help you achieve this goal:
Stage 1: General & Business English language course (min 6 weeks)
Stage 2: Unpaid Internship at UK company (min 4 weeks)
This offers you the opportunity to develop the essential skills for working in an English speaking country: communication skills, people skills, time management, cultural understanding, etc. This is an excellent way to develop your English ability and improve your future career prospects at home or abroad.
Please enquire for the internship placement fee.
Tuition fees
£ 135 per week (1 - 11 weeks) General English - 15 hrs/wk
£ 70 per week (1 - 11 weeks) General English - 7,5 hrs/wk
£ 125 per week (12+ weeks) General English - 15 hrs/wk
£ 60 per week (12+ weeks) General English - 7,5 hrs/wk
£ 80 per week (1 - 11 weeks) Business English - 7,5 hrs/wk
£ 70 per week (12+ weeks) Business English - 7,5 hrs/wk
£ 80 per week (1 - 11 weeks) IELTS Preparation - 7,5 hours/wk
£ 70 per week (12+ weeks) IELTS Preparation - 7,5 hours/wk
For more information on the courses at the Golobal School of Eglish in Edinburg, or to request an application form, please write to StudyUnitedKingdom EU <- click for e-mail